2.24.2021
CALLING ALL SPD EXPERTS!
The CBSPD is seeking volunteers to serve on the Exam Committee, CEU Committee, and Ethics Committee.
If you are looking for ways to gain valuable experience and contribute your expertise to the Sterile Processing Profession, we encourage you to email the CBSPD at mailbox(a)sterileprocessing.org to receive more information on these opportunities. Please indicate in the email which committee(s) you are interested in.
12.30.2020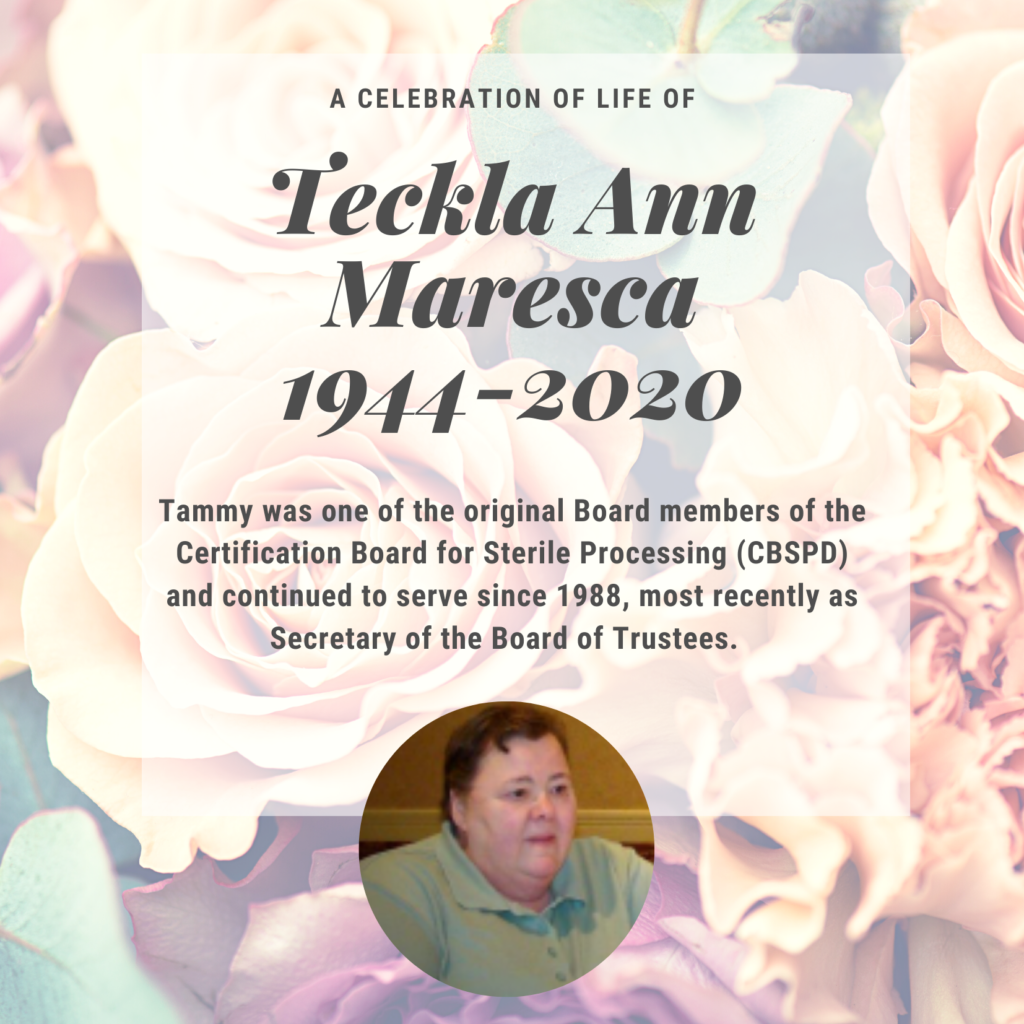 Teckla (Tammy) Maresca of Mt. Tabor, New Jersey passed away at Morristown Memorial Hospital on December 23, 2020. She was well known in the sterile processing profession, especially in New Jersey. She was a graduate of the College of St. Elizabeth in Morristown, NJ as a Licensed Practical Nurse. For a number of years, she worked as a scrub technician at the former Green Brook Hospital in Green Brook, N.J. She then accepted a position as SPD Manager at Dover General Hospital in Dover, NJ where she worked for 30 years. She then became SPD Manager at St. Clare's in Denville, NJ when Dover General became part of St. Clare's Health System. She remained at St. Clare's for 10 years until her retirement in 2012.
Tam was one of the first SPD course instructors in New Jersey starting a program at the Community College of Morris. She also taught a SPD program at Somerset County Technical Institute in Bridgewater, NJ and Kean College in Union, N.J.
She was an active member of the New Jersey Healthcare Central Service Association for many years and was an active proponent for certification for SPD technicians. In 1988, she was awarded the SPD Educator of the Year award from the American Society for Healthcare Central Service Professionals.
Tam contributed to educational articles, was a speaker at many SPD conferences both state and national and was a contributing author for the Basics of Sterile Processing textbook.
Tammy leaves behind many professional colleagues and friends. However, her legacy of education, certification and patient safety will live on for the many hundreds of SPD technicians and managers who she shared her knowledge with over the years.
A virtual celebration of her life will be held late February, date to be announced.
12.24.2020
UPDATED: Changes with study books
     
CBSPD Board of Directors
12.13.2020
Changes with study books
     
As CBSPD moves into 2021, we will no longer be able to offer SPU books through the office as we have in the past. If you would like to purchase these, please contact SPU directly at www.spdceus.com.
We apologize for any inconvenience this may cause and appreciate your continued support and understanding!
CBSPD Board of Directors
August 2020 Exams Update
Due to COVID-19 restrictions, which is limiting seating at facilities, we have decided to hold off on the Cut Score meetings for August. Therefore, candidates taking the GI Scope and Management exams will receive a preliminary report at the end of the exam.
CANCELLATION OF CBSPD MAY EXAMINATIONS
The CBSPD is concerned about your safety and health. Our testing agency, PSI has informed us that despite their centers reopening May 1st, many of the centers will be CLOSED due to the COVID-19 pandemic. Furthermore, many of the centers that will be open will only be open two days during the window, Tuesday and Thursday.
The CBSPD office will contact you, in writing, regarding transferring your application to the August administration, which is the week of August 3-7,2020.
We thank you for understanding. Please take care and follow all the CDC, as well, as your local and state recommendations.
Thank you,
Sue McManus, RN, CSPM
President, CBSPD Board of Trustees
Governor Phil Murphy, on Saturday, March 21, 2020, of the State of New Jersey has ordered all non-essential businesses to close due to the Corona virus pandemic that has affected not only hundreds in the state of New Jersey but many thousands throughout the world. The CBSPD officers and staff members are deeply concerned about the well being of all personnel during this trying time. We are deeply saddened by the loss of life and the many individuals who have been affected by the illness directly or indirectly. We all, however, have to do our part. We are also concerned about you, your families, as well as, the CBSPD family.
Due to the order to close all non-essential businesses, we would like to update you on how the CBSPD will proceed.
Effective Monday, March 23, 2020, the CBSPD office will be staffed with administrative personnel only and with limited hours. We will also have the administrative staff monitoring the phones from home. We will have access to mail and faxes. We will continue to process book orders received via web mail, or regular mail. However, allow additional time for the orders to be processed due to the reduced staffing.
Testing for May – at this time, our testing agency, PSI has not cancelled the exams for the first week in May. However, as noted on our web page, this could change as federal and or state mandates are made. We will continually update our web page with new information. Please continue to check the web page.
We know this will cause concern and inconvenience for many of you, but we must abide by the recommendations at this time if we are going to defeat this virus.
In addition:
CERTIFICATION APPLICATIONS FOR MAY EXAM: We will be able to process applications for the May exam but the PSI office is closed until April 13th, so the application process could not be completed anyway. You can proceed to submit your application; however, you will not receive your confirmation email until after April 13th (when the PSI office re-opens) and due to the number of applications, this could take an additional week.
RECERTIFICATION APPLICATIONS – If you are sending in your recertification application or have recently sent it in – we will be able to process it. However, due to limited staff, the review may require additional time. The CBSPD will extend the current review period for 60 days and during that time your certification will remain active. We apologize for any inconvenience which is unavoidable.
CEU APPLICATIONS – You can continue to submit your CEU applications as this process is not being affected.
QUESTIONS: Please email the CBSPD at mailbox@sterileprocessing.org for questions or concerns. We know this is an unusual and stressful time for everyone, and we ask for your patience and understanding at this time. We know how important your certification is to you and your career. but we also know you want to be safe and stay healthy.
Thank you,
CBSPD Board of Trustees and Administrative Staff
2.14.2020 UPDATED Websites, books, downloads with practice exams
It has come to the attention of the CBSPD's Board of Trustees, that there are websites, books and downloads on Amazon.com that claim to offer CBSPD exam practice tests. Please note, this is being done without the authorization or approval of the CBSPD . The CBSPD does not offer a website or books/downloads of practice questions nor does it endorse such sites or media. Any website or publication that claims to offer CBSPD practice questions is NOT authorized by the CBSPD, nor can the CBSPD verify the questions' authenticity.
12.12.19 November 2019 Admin Results
The CBSPD sincerely apologizes for the extensive delay in getting the final exam results out to candidates from the November 4-8th exam administration. The delay was unavoidable, and we have taken steps to ensure this does not happen again.
We know this information is important to you and again, apologize for any inconvenience.
You should receive your results within 3-10 days based on your local postal service.
Thank you for your understanding.
CBSPD Board of Trustees